InterCity

®

Buses

Still New Zealand's No.1 Bus Company

InterCity® buses are still the preferred way for New Zealanders to get around the country and because the company is so large, it's not easy to wade through the raft of options available. Use this easy overview to work out your preferences.

InterCity Group (NZ) Limited is the private company that owns and operates InterCity. It is New Zealand's largest bus transportation network connecting to over 600 destinations nationwide with over 130 services every day.
In addition to point to point travel, numerous options exist for tours and sightseeing with GreatSights and GrayLine.
Transportation choices encompass buses, ferries and cruise ships.
InterCity offer new GOLD buses with a limited number of soft leather reclining chairs, complete with individual USB charging ports and free WiFi. These new seats provide plenty of room to stretch your legs. And the best thing is, they don't cost a lot more than the regular fare!

The tour/sightseeing divisions, which I am not going into here, include GreatSights New Zealand, awesomeNZ.com, GrayLine and Fullers GreatSights Bay of Islands.
GreatSights and GrayLine offer premium sightseeing tours of Rotorua. Departing daily from Auckland and Rotorua you can experience the highlights of Rotorua on board a luxury coach, with air-conditioning, free WiFi and entertaining commentary from an experienced and knowledgeable local driver. What's more, sometimes lunch is included!
Some tours include Hobbiton and Waitomo Caves, Te Puia, Rainbow Springs and Agrodome and Rotorua Sights and Lakeland Queen Lunch Cruise. There are many sightseeing tours to choose from with GreatSights and GrayLine.
Use the following links to jump down the page:

A lot of the services blend in together including the online booking facility.


---

InterCity

 This is the main way people get around New Zealand. Intercity buses are good if you want to get from Point A to Point B. Prices start at $1 (plus booking fee) but these fares sell out quickly so you have to get in early.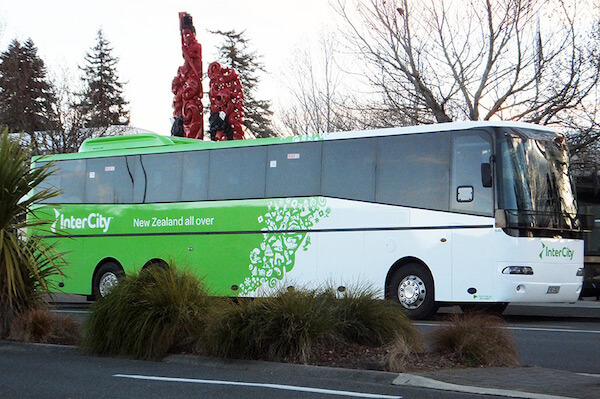 Intercity Buses
Saving $$$

InterCity have a rewards scheme where every dollar you spend on travel with wither InterCity or Newmans Coach Lines earns you Rewards dollars to redeem against future travel. Sign up to become a rewards member: Join InterCity Rewards
InterCity buses offer discounts on selected services to Students, Backpackers, Children and Golden Age adults. Golden Age? I wonder where they came up with that one?
Sorry overseas travellers, I just checked and Golden Age discounts are only available to New Zealand citizens over 60yrs... how mean huh? :(
There are conditions to these national intercity bus discounts which you can check out at the InterCity site here. Scroll down to Special Fares to view.
Another way you can save money is with using their Standard Fare which is a Non Refundable Fare. It means that there is no refund if you cancel but you can amend your booking up to two hours before travel.

With the Flexi Fares, these are fully Refundable. You can cancel (with a 100% refund) or make changes to your InterCity bus ticket up to 2hrs prior to departure.

InterCity has a good reputation as a national bus provider as evidenced by their Silver Qualmark Status (meaning they provide quality services). You will find the Qualmark logo at the bottom of their site pages if you want to learn more about it.

If you book online or over the phone, note that there are Booking Fees of $3.99 for online bookings and $5 for the National Contact Center bookings.

Return to Top

InterCity Travel Passes.
InterCity FlexiPass

 This pass lets you go where you want when you want at your own pace. You buy hours that last 12mths from activation with the ability to top up as you go.

Prices begin at $125.00 for 15hrs travel. If you purchase, say, 60hrs for $459.00, each trip will be a bit cheaper.
You can lock in discounts when you book each leg of your trip, how great is that? And you can top up your pass at any time by purchasing 3 hours or 10 hours. Additionally, if you find you've purchased too many hours, you can sell any unused hours and InterCity will transfer the hours to the new owners.

Included is travel on the national InterCity network and selected GreatSights and awesomeNZ sightseeing tours. As well as the Interislander Ferry between Wellington and Picton and also the Hole in the Rock Cruise up in Paihia.
Click the pictured FlexiPass image to find out more.

Return to Top

InterCity Travelpass
 With this pass the itinerary is fixed, but you still have the ability to hop on, hop off anywhere.

The trips cover the most popular touring routes using InterCity's bus network and includes selected sightseeing tours with GreatSights New Zealand and awesomeNZ. The Interislander Ferry is also included where needed.

The itineraries cover a minimum of 1 day to 15 days with prices ranging from $125.00 - $1,045 for adults with backpackers getting a bit of a discount. Some of the trips you can begin anywhere en route, others you can do the trip in reverse.
Click the pictured TravelPass image to find out more.
Return to Top

InterCity GOLD

Everyone loves kicking back in a lazy-boy chair, I'm sure, so it's great that InterCity now offer leather recliners along with Wifi and individual usb ports on selected overnight services between Napier and Wellington.

More about the GOLD service »»


Newmans Coachlines

Newmans are more upmarket than InterCity and they service major cities and tourist centers. It looks to me like their brand is gradually being phased out with GreatSights taking over.

At the moment they provide point to point travel throughout New Zealand interchanging with InterCity at various points. They also offer daily sightseeing tours - under the GreatSight brand - to the main tourist centres along with the attractions.

Newmans bookings are also taken through the Intercity Booking system.
---

Please use the Contact Me page if you have any questions about this page.

Thanks for visiting.

Return to Top of Intercity Buses
Home

›

Travel To Rotorua

› InterCity® Buses